SKUTC06018K30
Ultimax II Large Trunk Spinner
Description
Traveler's Choice's Ultimax II Luggage Collection is a 2017 RedDot product design of the year recipient. Ultimax II combines style and features from our beloved MaxPorter II to become one our customers' most loved collections!

Traveler's Choice Ultimax II polycarbonate hard side spinners luggage suitcases are made of 100% polycarbonate hard shell that is extremely durable and impact resistant.

Patented T-Cruiser Handle system allows you to maneuver your bag with ease.
Downward curvature of the handle fits the natural position of your hand, thereby minimizing discomfort or fatigue.
Patented dual cyclone spherical spinner wheel system provides wide wheel bases for better traction and stability.
Double coil burst resistant anti-theft zipper on main compartment effectively prevents the chain from being easily punctured with sharp objects under high pressure.
Wheels are recessed to maximize case size and packing capacity.
Each wheel features a 5mm shock-resistant material that assures smooth maneuverability and quiet rolling experience.
Built-In TSA-approved combination lock provides additional peace of mind.

Fully-lined interior includes d

etachable clear waterproof pouch and adjustable shelf dividers.
Bottom grip handle allows easy lifting without touching the wheels.

Clear luggage cover is included to protect your luggage from dirt and scratches.
Product Specifications
Material: 100% Polycarbonate
Product Overall Dimensions:
31.25" x 17" x 14.75"
Product Packing Dimensions:
30" x 16" x 14.5"
Weight: 12.38 lb
Linear Dimensions: 63 in
Warranty Duration: 5 Years
Return Policy
At Traveler's Choice, we want you to be fully satisfied with every purchase you make. If you are not completely satisfied with the products you have purchased on our site. you may return the unused products within 30 days from the date of purchase. Learn more about our return policy.
Unrivaled Durability
External Hardshell Damage Test
Features
Protect your new Trunk Spinner with
The Clear Luggage Cover
Keep your Ultimax II Trunk Spinner clean and scratch resistant. The clear luggage cover protects the luggage against any scratches, dirt, sand, snow, and is waterproof. 
Customer Reviews
Write a Review
Ask a Question
05/14/2022
Anonymous

United States
I recommend this product
The Perfect Cruise Check-In Luggage
The trunk-style luggage (70/30 split) is a rare style of luggage but works perfectly for a 7/8 day cruise where formalware is needed. The lid stored my tuxedo, dress shirts, and accessories while the bottom stored five packing cubes containing clothes and shoes. The built-in container for liquids and the dividers kept everything neat and tidy. I was able to carry 20 liters more in the Ultimax II (than the traditional 50/50 split luggage) as it is the perfect size and shape.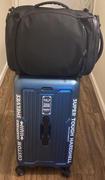 05/12/2022
Morgan L.

United States
I recommend this product
Bought both!
Great! Already used them and they're wonderful quality. There's even a storage area that you can use for your dirty clothes which is super helpful!
04/28/2022
Carl S.

United States
I recommend this product
Great
Great came in on time
03/21/2022
Anonymous

United States
I recommend this product
Great product lots of room looks great and should hold up a long time. And they roll very smoothly!
03/10/2022
Anonymous

United States
I recommend this product
So far so good
I love the unique shape of this trunk, as a tall person I found it easier to handle on the go. I also found it easier to pack and now live out of due to the shelves and narrow shape. Of course with most check bags, if it's full it's overweight but I managed to get it under 50 lbs to get to Europe. Not sure about durability yet. Not sure what the giant plastic pocket is for, hesitant to put anything in there since it traps moisture.